Chat with a Current Student
Talking to a current student is one of the best ways to learn more about Bastyr. Schedule a 30-minute phone appointment with a Bastyr student below to learn more about how to prep for your Bastyr journey, student life & traditions, and everything in between.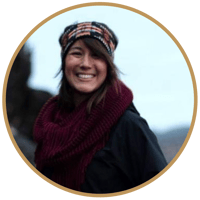 "I love getting to study the intersection of mental health and nutrition. I am a firm believer in the power of treating the whole person and believe that combining modalities is a great complement to taking a biopsychosocial approach to client care."
Nutrition & Counseling Psychology, Nutrition Post-Baccalaureate

Seaward is in her third year of the dual degree Nutrition and Counseling Psychology program. She is passionate about integrating nutrition and counseling to provide a holistic approach to mental health care. She was inspired to pursue her graduate degree after working for several years in community behavioral health as a case manager. In 2018 she was accepted to Bastyr's post-baccalaureate in nutrition program then subsequently into the MSN-MACP program. When she's not studying Seaward enjoys brewing kombucha, playing with her 5-month-old puppy, and listening to audiobooks. After graduation, Seaward is excited to contribute an individualized approach to wellness in her local community of Kitsap.